Scroll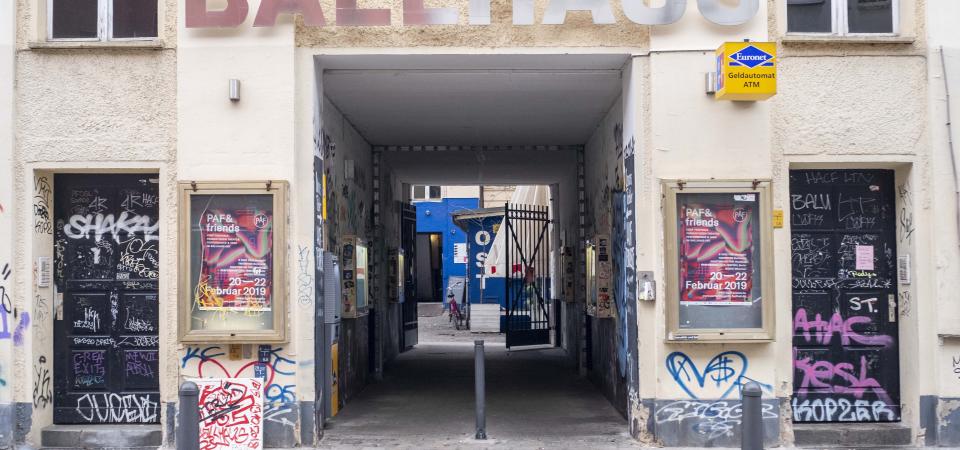 Ballhaus Ost
Ballhaus Ost in the Prenzlauer Berg neighborhood of Berlin is a performance venue for independent theater, performance, dance, music theater and music. As an experimental stage for the widest variety of forms of contemporary theater, it invites the audience to experience and discover new forms of artistic confrontation of today's everyday realities. Both the aesthetic means and the wide spectrum of themes are marked by a socially critical standpoint and the search for alternatives to normative structures. Urbanity and the local, surprises and challenges, history and the queer, narration and documentation all have their place in the programming and exciting works for non-German speakers are also frequently offered.
Housed in the former festival and assembly hall of Berlin's free religious community constructed in 1907, Ballhaus Ost serves as a performance venue for many established groups and artists within the independent performing arts community. At the same time, it offers less well-known members of Berlin's vital independent performing arts community space to present their work and develop new aesthetics. The programming is supplemented by guest performances from throughout Germany and beyond.
Ballhaus Ost was founded in 2006 by the directors Uwe Moritz Eichler and Philipp Reuter and the actor Anne Tismer as a self-managed stage for artists after the hall was used as a cafeteria for workers under the name Casino des Handwerks during the GDR era and as a pool hall and club after the Fall of the Berlin Wall. Daniel Schrader and Tina Pfurr have run Ballhaus Ost since 2011 and developed it into a flagship institution of Berlin's independent performing arts community and curate it with a curiosity for new artistic forms and collaborations while representing a diverse, very international community of artists.
Direction
U & Tram Eberswalderstraße
We 25.05
Th 26.05
Sa 28.05