Scroll
Programming from the Community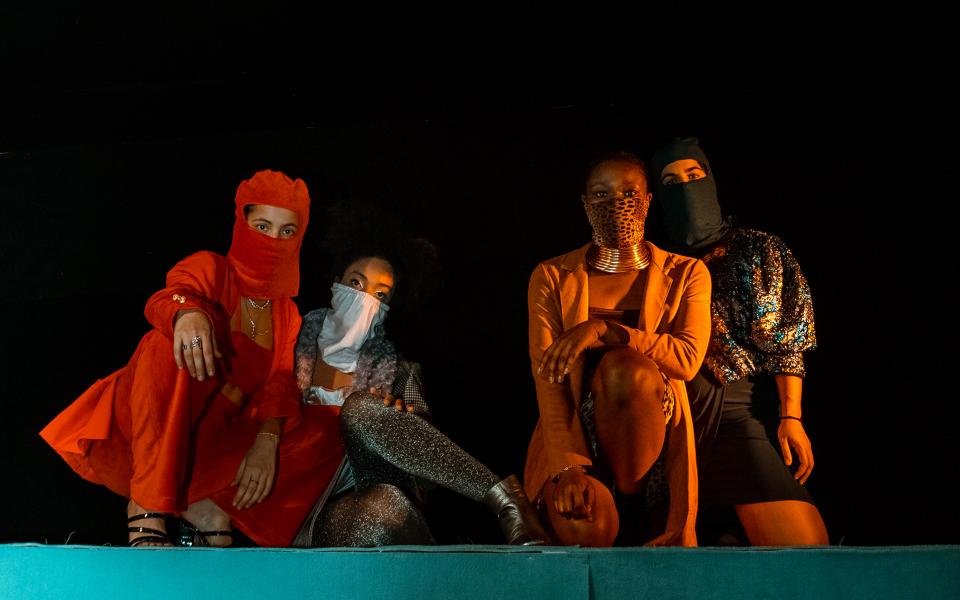 "What I want to do most of all is to scream, cry, let the untamed rage in me run free, but I can't." Right-wing terrorism in Germany has led an ensemble of young women of color to collectively develop this piece. They investigate how solidarity can work. What does resistance mean? What significance do privileges have within communities? Insights into the desires of the ensemble are provided excitingly and with many voices.
Admission price
8 € | 5 € reduced | 12 € Soliticket
Event notes
As part of the Performing Arts Festival, a recording of the play will be shown at the Berlin Ringtheater, followed by an audience discussion.
Accessibility
The performance will be held in German. A continuous, step-free and level access (incl. curb ramp) from the street to the building and to the event area with a width of at least 150 cm is available. Barrier-free parking spaces are also available. Space for wheelchairs or walkers is provided in the event hall/area and there is the possibility of special suitable seat reservation and/or to enter the hall ahead of time.
Please note: There are no barrier-free sanitary facilities on site, as they are too small and lack helpful holders.
Contact: ringtheater@gmail.com
With: Jacqueline Grumme, Josephine Papke, Jeanne-Ange Megouem Wagne, Mariann Yar, Sindi Zeneli
Concept & direction: Thu Hoài Tran & Elisabeth Maria Kuzel
Stage: Rimma Elbert
Costume: Mariama Sow
Make-up: Djamila Rachor
Film: Emine Demir
Camera: Eunae Anna Jo, Sajad Bayeqra
Dramaturgy: Dandan Liu
Artistic assistance: Sanni Est
Choral & musical support: Sanni Est, Christine Seraphin
Process support: Tuğba Tanyılmaz & Edwin Grewe (I-Päd).
Somatic Empowerment Coach: Pasquale Virginie Rotter
Theatrical Film Director of Photography & Postproduction: Eunae Anna Jo.
2nd camera & sound: Sajad Bayeqra
"Halt" is a project in cooperation with i-Päd Initiative intersektionale Pädagogik and is funded by the Berliner Projektfonds Kulturelle Bildung.