Scroll
Programming from the Community
Introductions, Follow-up talks & Mediation, For English speaking audience, Without language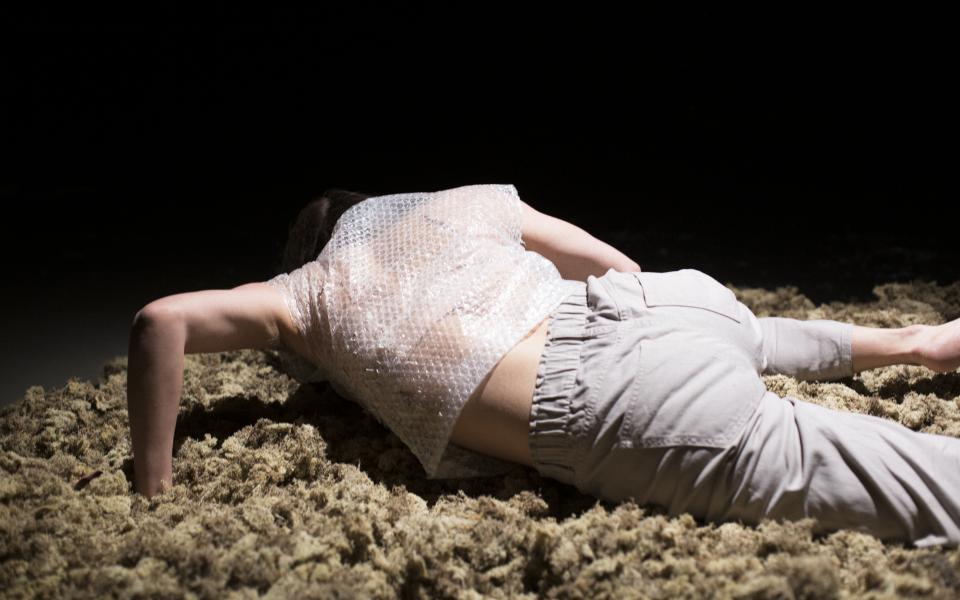 physical prospects
Nora Tormann
A landscape of bodies, moss and concrete. A bubbling mass searches for its channels. Fissures distort the landscape, bring it to life - destroy it. Physical prospects lingers in this place of decay and examines the violence of the Anthropocene. With queer perspectives on mourning and anger, the performers proceed from the point of departure of their own fragility: sometimes alone and especially together, they conjure up their own resistance.
All performances unfortunately cancelled.
Playing times
Th 26.05 22:00 -

22:50
Fr 27.05 22:00 -

22:50
Sa 28.05 22:00 -

22:50
Accessibility
The parking garage is barrier-free for people with motor disabilities.
Concept, Choreography & Performance: Nora Tormann
Stage design: Helena Rauch
Lighting design: Raquel Rosildete
Music: Zofia Tomczyk
Mentoring: Sigal Zouk
Supported by Theaterhaus Mitte and ACUD Theater e.V. In cooperation with TATWERK | Performative Research. 
Nora Tormann
Nora Tormann works with and between performance, choreography and text. Nora's choreographic work focuses on bodies as sites of political negotiation: how do ideological regimes and bodies shape each other?